Choosing the best horse riding helmet can be a challenge if you have an oval head. It is important to find one that fits your head shape well and provides protection for different types of riding.
In this article, I will walk you through some of the best riding helmets for oval heads available in the market and discuss their advantages and disadvantages.
A helmet you wear should provide you snug fit with no gaps in between. It should be lightweight and ventilated to help reduce sweating while wearing it as well.
Considering these features and more(talks below in the buying section) I've listed the top 5 best horse riding helmets for oval heads that you can buy in 2022.
Looking for a quick answer? The best helmets for oval heads are the highly rated IRH INTERNATIONAL RIDING HELMET and the Ovation Deluxe Schooler. 
5 Best Horse Riding Helmet For Oval Head 2022
The helmet shouldn't be a bike helmet as bike helmets are not appropriate for horse riding. Find a helmet that fits oval heads well.
Here we have compiled the 5 best-certified horse riding helmets.
If you really cared about your head safety and a snug fit and are serious about horse riding then you should give it a try to IRH 4G Helmet.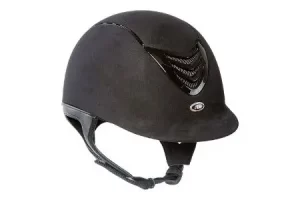 The two main features of the IRH 4G helmet ASTM F1163 safety standard and the fit they provide make the IRG 4g helmets an excellent choice in terms of safety and comfort.
This helmet has a snap-in liners feature which allows a custom fit making it more premium than other helmets. Do take care of the liners after adjusting them according to your custom size.
Another important feature to consider in a riding helmet is Ventilation. And luckily this helmet has both rear and side ventilation.
It can be considered more comfortable due to its unique features including a quick-release chin strap. And in terms of weight. It has a normal weight of two pounds which is easier to carry for riders.
With that said if you're looking for the best horse riding helmets under $200 with all these amazing features, you should consider IRH 4G helmet.
Ovation is considered the best brand in providing budget helmets. And speaking of the Ovation Deluxe Schooler helmet It offers all the needed features at a reasonable price.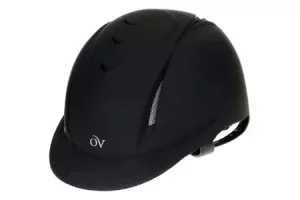 This brand is providing equestrian helmets for a decade which makes it more reliable. Deluxe Schooler also comes out with the best quality and values including different colors.
And in terms of finding the best fit for oval-shaped heads, it has an extra adjustment dial which helps make it a proper fit and increases the helmet life.
Speaking of how long we can wear this helmet. The good thing is it features a liner Ventilation means removable and washable liners are helpful in ventilation. You can put back liners after washing properly to keep the same comfortability.
The helmet also weighs only one pound which ensures comfortable long-wearing. And lastly, the helmet has over 2,934 ratings on Amazon with a 4.8-star rating out of 5.0 which is stunning.
At number three it's another helmet from Ovation. If you have a $50 budget and want a good quality helmet look no further.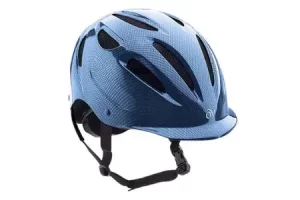 This helmet has a premium look due to its external material Acrylonitrile Butadiene Styrene. It comes out in different colors, you can choose your favorite one.
Speaking of the build quality, the helmet has the most premium build quality. Bright exterior made of Acrylonitrile Butadiene Styrene providing it a strong external layer.
Its internal layer is made up of special mesh material which provides the best ventilation to this helmet. This material helps in proper airflow which makes this helmet more comfortable providing high airflow.
On the backside, this helmet consists of an extra shell that provides extra protection while wearing this helmet. The adjustment dial helps to fit the helmet properly. This makes the helmet certified as it fulfills all the required criteria.
Another great feature of this helmet is its removable and washable Liners to ensure proper ventilation.
Along with various color options, the helmet is available in various sizes from extra small to extra large, pick one carefully for your oval head that fits well.
Another excellent budget-friendly option for the oval head horse rider is the Troxel Liberty Riding helmet.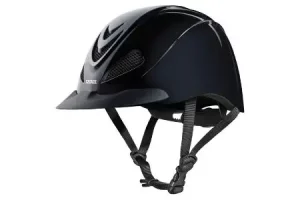 Troxel is another the most famous equestrian helmet brand. They are providing certified helmets at a very cheap price considering all the features.
Its certification shows that it has all the required features in this affordable price range. Specifically, this helmet has an attractive classic design that looks elegant at this price.
The design makes it more durable due to its lightweight. Its classic design is more unique as compared to other helmets affecting its durability.
Special mesh material is used to provide proper ventilation from six large vents.
It also has removable and washable liners with air channel technology which are also helpful in providing proper ventilation and weighs only 1.8 pounds which is easy to lift over the head while riding.
The rebel horseback riding helmet is specifically designed for adventure riding and this model is for oval heads.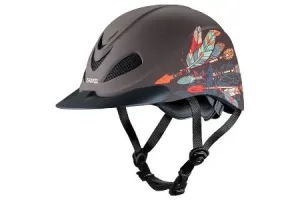 It has beautiful animal print designs on the exterior making it bold and attractive. It has all the premium features but it is a bit more expensive than the liberty version of Troxel helmets.
Speaking of the features, the Pro mesh material used under the vents provides it with the best ventilation and has 2.1 pounds weight.  Its comfortable strap helps to keep it stuck on the head helping in the proper adjustment of the helmet.
Buying Guide: How To Choose The Best Helmet?
Helmets are considered compulsory for horse riding whether it is your normal riding or professional job. All bikers prefer using a helmet to avoid any sort of damage. The same applies to horse riders. Falling from a horse can result in severe injuries such as neck breakage.
Equestrian Helmets are designed specifically to provide a satisfying ride experience. To find out the best fit for you I have compiled all the important stuff below:
1. Use Certified Helmet Brands
Try to find a certified equestrian helmet brand before purchasing. Safety Equipment Institute(SEI) has defined some specific requirements for the certification of helmets.
All the helmets are tested in their independent labs and are certified after passing the required criteria. Using Certified helmets will provide you more satisfaction than using others.
2. Impact of Helmet while riding
Good quality helmets have a decent impact while riding. Choosing the right helmet will make your ride more comfortable and satisfied. It will become easier to ride a horse while wearing a helmet.
Falling from a horse can also cause a lot of injuries specifically connected to the head. The helmet has a big impact to avoid any sort of damage caused due to horse riding.
Different Designs Of Helmets and Which One To Choose?
Helmet designs are based on the change in the type of riding. Some riders are general riders having such activity once a week or month, While some are professional riders. Designs of helmets carry on the basis of the use of helmets.
Still, some western riders don't wear helmets as they are focused on wearing traditional cowboy hats. But it is understood the helmets are more secure as compared to those traditional hats.
Following those trends, different companies have come up with some hat-shaped new helmets.
Fixed Peak Premium Helmets: These helmets are specially designed for general riders. These are helpful in normal riding to provide both security and comfortability.
Professional Racing Helmets: These helmets can be used for all purposes, specifically racing. Racing helmets are built with the best quality to provide more security while providing the best racing experience to the rider.
Traditional Helmet Hats: Due to the trend of using cowboy hats while riding different brands have come out with those hat-shaped helmets. These can only be used in showing or showjumping.
Helmets for kids: These helmets are made for kids to meet the security measures if a kid is riding a horse.
Sizing – How to find the right fit for an oval head?
Finding the best match for your head is the main thing before purchasing a helmet. To find the proper size for your helmet you should follow the steps mentioned below:
Use a soft measuring tape and place it on your head.
Measure the size of your head by placing it on the widest part above the eyebrows.
Note down the size of your head in both centimeters and inches.
After doing this stuff you can also measure the size by using a string. Mark on both starting and ending points. Measure the size by using a normal measuring scale.
Use the measurement to find the best fit on the size chart. Here you will find whether you should use small, medium, large, or extra-large sizes. If your measurement is in between any size always try to use upsize to get the best fit.
Size may change depending on the shape of your head varying from oval to round heads.
There may be an increase in size due to long hair. Changes in the size of hairs can cause an increase in the size of helmets.
After purchasing you should check further about its comfortability. If it is above your eyebrows and does not shift around then it is the best fit for you.
Ventilation
Ventilation is compulsory to provide thermal comfort to the rider. All the certified helmets are properly checked for ventilation. Lack of ventilation can cause heat issues which can cause uncomfortably to the rider.
There are special vents and liners provided in all the helmets by almost all brands to provide proper ventilation.
Material and Safety
In Equestrian helmets, some specific material is used according to safety and certification concerns. For certification, all brands are made to use the best-specified material.
External Part: External part is supposed to hit the ground first so it is made more strong to avoid any severe damage. For this purpose, Acrylonitrile Butadiene Styrene (ABS), fiberglass, polycarbonate, carbon fiber, or kevlar are used.
Kevlar is the best material for making the external layer of an equestrian helmet but it is much more expensive than other available materials.
Internal Part: Internal part will help to absorb the energy you feel after hitting the ground. Mostly some specific foams are used for this purpose and it remains the same in the helmets too.
The inner layer of helmets is made of Expanded PolyStyrene (EPS) or Expanded Polypropylene (EPP).
Internal Head Padding: The internal padding is a sheet of foam used to provide comfortability and easiness to the head. It should be soft, dry, and lightweight to remain comfortable. This head padding sheet is made up of moisture-wicking polyester and foam.
Harness: It is the chin strap that is used to hold the helmet properly while riding. It keeps your helmet stuck with your head in case of an accident. This retention strap is made by using leather, suede, or nylon.
Comfortability
All brands are focused to provide comfortability which depends upon the material used in the production of the helmet. It also depends upon the sizing, for this you should find a proper match for your head by finding the size using the method mentioned above.
More sticky helmets also cause comfortability issues. Try to use up-size helmets in such cases. Find the best helmet according to your head shape which will feel more comfortable.
Conclusion
I have made it easy for you to find the best horse riding helmets for your oval head. You can easily find the best match by reading out the buying guide mentioned above. If you know the exact size of your head you can easily find the best match for yourself. Try purchasing the helmet according to the required type of usage.
Considering features I will prefer you to use IRH 4G Helmet but it can be a bit expensive as compared to other available options. If you are looking for the best helmet in the affordable range you can blindly choose the Troxel Liberty helmet.