Horse owners are always looking for ways to make their horses look their best. One way is by clipping the horse's coat to look tidy, which makes the horse specifically cobs attractive.
Clipping a horse like cobs is a little different as this horse breed has lots of feathers, and the clippers you used to clip them should have enough power and a good blade to handle the task well.
And to make things easier for you, I've listed the top 5 best horse clippers for hairy cobs that you can get in 2023. Along with that, I've listed a few important things to consider when selecting horse clippers for cobs below in the buying guide section. You should check them as well.
So without wasting any time let's start.
TL;DR: The best horse clippers for cobs are the highly rated Wahl Lithium Ion Pro Series Cordless Clippers and the Professional Horse Cordless Clipper Kit.
Top 5 best horse clippers for cobs
Here are the top 5 best horse clippers for cobs features you can look and buy right now.
Amazon star rating: 4.3 |Power source: Rechargeable |Weight: 1.59 lbs. |Strokes per minute: Up to 3,000-3,700 |Lead length: Cordless
Wahl is well-known for delivering quality animal clippers within an affordable budget range.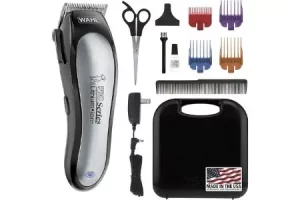 Wahl 9766 cordless animal clipper is a whole grooming kit comprising all tools you necessitate for grooming.
Get ready to perform multiple grooming sessions because Wahl 9766 animal clipper offers 2 hours of run time with instant charge power of 15 minutes. The lithium batteries stay upright without losing their memory for around a year.
The high-carbon self-sharpening blades offer sung-free cutting, creating a pleasant and smooth experience for your cobs.
The motor is dead-silent in performance to not disturb your cobs with the buzzing sound.
From thin to heavy-thick, the sharp carbon blades cover up all like a pro. The provided guide combs aid in modifying the clipping the way you want.
Talking about the kit it includes a charger, scissors, cleaning brush, oil, comb, storage box, blade cover, and four guide combs.
What I didn't like about the Wahl 9766 animal clipper is the non-variable speed.
The clipper supports only one constant speed, which is sometimes a pain in the neck during clipping.
Amazon star rating: 4.4 | Power source: Rechargeable | Weight: 0.4 lbs. | Strokes per minute: Up to 5,500 | Lead length: Cordless
Not only does how the cobs experience during clipping matter, but what will be your experience also matters.
Clipping becomes effortless when you have professional horse clippers with ergonomic design. And Wahl professional is what I'm talking about.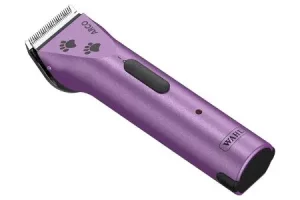 Wahl professional animal Arco clipper is a 5-in-1 model, the true definition of a cordless clipper. Whether it is about clipping the back of ears or the rough area around hooves, this professional Arco clipper reaches everywhere.
The 5-in-1 blade's adjustability is like the cherry on the top. The supported blades include #30, #10, #9, #15, and #40. The weight is pretty light with a slim-sleek ergonomic design to reduce wrist fatigue.
The blade is detachable for effortless cleaning. In the box you get, a cleaning brush, oil, four guide combs, a storage box, a charger, and two drop-in NiMH battery packs.
The NiMH batteries offer 80 minutes of run time. A total of 75 minutes is required to charge fully. The clipper is most recommended for clipping around the bridle path, fetlock, muzzle, and ears.
Again, the only missing ingredient in the Wahl Professional Arco animal clipper is the constant speed. The single-speed with 5,500 strokes per minute is sometimes difficult to control around sensitive areas.
Amazon star rating: 4.3|Power source: Mains |Weight: 1.97 lbs. |Strokes per minute: Up to 2,100 |Lead length: 12 ft.
When it is about clipping heavy coats, Oster horse clippers are the ones that usher the top position. This heavy-duty horse clipper by Oster is something I believe is worth to be mentioned on this list.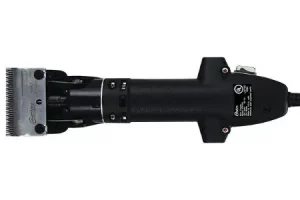 The heavy-duty rotary motor of this horse clipper offers 2,100 strokes per minute. The universal motor is tackled to cut down any matt and coat within a few seconds.
#10 CryogenX blades with an A5 system line up the blading system; the chew-proof housing protects the blade from external damages. The #10 CryogenX blades are cryogenic in design, specially treated for reliable and durable performance.
The universal guide combs (sold separately) boost the performance of the blade. Adjust the combs per your clipping demand and let the best clipper for cobs show its magic.
The overall weight is only 1.97 pounds for fatigue-free performance. Being corded means you are not restricted from using the clipper for a certain period. You can use the clipper as long as you want until you have a stable power supply.
The thing that I dislike about this clipper is the heating issue. After continuous use of a few hours, the clipper ends up heated like a burning stove. Besides that, the cord quality is also pretty poor.
Amazon star rating: 4.6|Power source: Mains |Weight: 2.33 lbs. |Strokes per minute: Up to 3,400-4,400 |Lead length: 14 ft
Grooming horses without hurting their skin is what every horse owner wants. Hustle-free clipping comes when you invest in a high-end clipper with Adjustable features. Amazingly, Andis AGC Super 2-speed perfectly sums up your needs.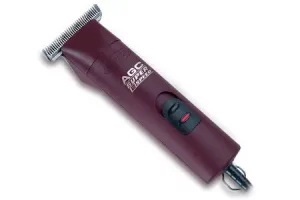 The clipper is super handy and professional for horse grooming. The rotary motor is ultra-quiet and cool in performance. No matter how long you use the clipper, it will remain cool and calm for dead-end performance.
Not forget to mention the heavy-duty 14 feet long cord. Being a corded model, this clipper doesn't bother clipping. The cord is effortless to move and perform the way you want.
Talking about the blade, that is UltraEdge T-84 blade with chew-proof housing. Clip the horse body anywhere you want. The UltraEdge blade with chew housing won't drop its performance.
The detachable blade AGC clipper is available in 5, 2, and single-speed options. Adjusting the speed is super handy. All you need to do is push the button. For beginners, an instructional video USB is included in the box.
Besides that, you also get one hard case to secure the clipper. The point where this clipper misses its quality is the body material. For reliable performance, the body quality could be better.
Amazon star rating: 4.1|Power source: Mains |Weight: 6.26 lbs. |Strokes per minute: Up to 2,400 |Lead length: 16 ft.
The last best horse clipper for cobs I'm reviewing is by the TAKEKIT store designed for heavy-duty performance. This versatile clipper is ideally designed to clip heavy coats around rough body parts.
The most out-ranking feature of this clipper is the 6-speed controls. The low speed ranges from 1-3 for sensitive areas like the face and ears. Maximum power is at 4-6 for fast and heavy coat coverage. You can adjust the speed using the lever.
The 380W device is fully copper for professional and hustle-free grooming. The motor offers 2,400 strokes per minute, perfect for quick and time-saving clipping.
The high-grade extra-sharp steel blades are long-lasting and reliable in performance.
These blades have self-sharpening quality and keep them on track for efficient performance.
The maximum noise rate of the motor is only 75 decibels, which is quite bearable for horses. As TAKEKIT professional clippers are heavy-duty, it is not recommended for small animals.
The whole package includes a cleaning brush, oil bottle (empty), clipper, carrying case, two extra carbon brushes, and user manual. The carbon brushes are replaceable to keep performance on the track.
Things to Consider when Selecting Horse Clippers for Cobs
Some considerations to keep in mind opting for the best horse clipper for cobs include;
Your Horse Temperament
The very thing you are always considering while choosing a horse clipper is how your cobs horse behaves around loud noises. Usually, there is no issue, but some horses don't feel well around loud noises.
If this is the case, you should consider a quiet clipper that doesn't make sound, and luckily there are some suitable options available.
The Purpose and how often going to use the clipper
The next important thing to consider is which tasks you want to achieve with the help of a trimmer. And how often you want to use it.
If you often want to use the clipper for full-body clipping sessions on heavy coats, consider heavy-duty horse clippers that allow you speed adjustments, change the blade, and feature good strokes per minute.
Budget and Quality of the Clipper
All features and things aside, how much money can you invest in a clipper? From $50 to onward, you'll find a clipper, and definitely, the prices vary.
However, in the budget range of $150 to $300, you can find good quality clippers with the features above-mentioned. But if you cannot invest that much money, don't worry, I've listed some budget-friendly options as well. However, you have to compromise some of the advanced features.
Choose Between Cordless and Cord Clippers
There are two options available for you with and without cables. Each type has its pros and cons. It's up to you which type you consider and what your budget allows you.
But for the cordless horse clippers, make sure they have good battery life.
You charge them well because there's nothing worse than getting in halfway through, and you have to recharge the battery.
On the other hand, most of the time corded clippers require extension cables, and it's okay. Just make sure the extension cable is not dragged around the horse. It can lead to serious issues.
Have settled in hands well
Last but not least the clipper you choose should settle and feel nice in your hands. It's not too heavy or too lightweight and contains a good grip. So without any discomfort and breaks, you can trim your cobs in shorter periods.
Should you trim cobs feathers?
Whenever you clip your cob's limbs and heels, you are offering him relief. The thick and dense coat can be the home for biting insects and mites. Cobs coat when remaining clipped back to the skin promotes natural skin treatment and healthy fur formation.
Conclusion
Clipping cobs feathers is challenging, but if you use the best horse clippers for cobs mentioned above, I'm pretty sure that your experience is going to be hustle-free.
In conclusion, we recommend the highly rated Wahl Lithium Ion Pro Series Cordless Clippers and the Professional Horse Cordless Clipper Kit.